We're excited to introduce our exceptional team! With a variety of backgrounds and diverse skills, we work closely to deliver outstanding results and provide the highest level of service. Get to know us and see how we can exceed your expectations.
We're excited to introduce our exceptional team! With a variety of backgrounds and diverse skills, we work closely to deliver outstanding results and provide the highest level of service. Get to know us and see how we can exceed your expectations.
Owner and founder of SAU. After building the company to it's current extent as it is today Rogier is now focussing on the innovative and creative part of SAU. By combining a ton of experience built up over many years of making tombstones and his creative skills after graduating from Rietveld academy, Rogier and the company keep innovating on product ideas and production techniques, resulting in being one step ahead of the competition for over 30 years now.

"I am still proud to be working with my crew for so many years and looking forward for some more."
My hobbies are hiking in the wild, making trips with my 4×4 camper and constructing, working with my hands.
Daphne has been part of the SAU journey from day one in 1989 and played many roles in the company, from being the financial controller to the quality control & packaging role she takes on nowadays. Her sharp end inspection makes sure no failure goes unseen and she makes sure every project is ready for transport.
Daphne likes to go for long walks in nature, visit the highlands of Scotland and spending time with her kids and granddaughter.
Quality control & packaging
Senior Sales & Accountmanager
Being in the company since 2002 Gepke is one of the driving forces of the team. Where she takes responsibility in many fields in the company, she describes herself as a creative control freak with a passion for customer service. She has the experience and knowledge of turning every request into a succesfull project, which ticks all the boxes that are on the checklist such as budget, creativity in design, deadline and producability.
She loves spending time with her husband and 2 children. Enjoys sailing, skiing, crafting, cooking and having dinner with friends. There are just not enough hours in the day for her. Oh and if you see her holding a drink it's probably one of those Dutch lager ones. Cheers!
After signing off on your project, Rutger will make sure it runs as smoothly as possible through our factory process. Staying on top of the production schedule, being in close contact with the artwork & production team and making sure all materials are available is just part of his daily routine. 
He lives in the City of Cheese (Gouda) with his wife and kids,  enjoys camping, having a beer with friends and listening to music . His biggest hobby is playing bass guitar in a band called Out of Office.
Fresh out of media college, Leon started as an intern at SAU in the Artwork Department. Many, many years later he has grown into a Senior Artworker being responsible for every single drawing that leaves the department. There is no end to his creativity and many tombstones saw the living daylight on his best friend in the company, his iMac.
Leon left his acting and dancing career behind him, but sometimes the performer still comes out to play, putting on a show by playing the most complicated parts on the grand piano, for instance during the annual Christmas dinner at SAU.
At a very young age Michelle started working as a traffic manager at SAU, guiding many projects and customers along the way. With over 15 years of experience she has evolved into the driving force behind the international sales and marketing team for SAU. Frankfurt, London, Amsterdam and many other cities around Europe hold no secrets for her anymore. She loves to inform customers about all the new production techniques, pricings, materials and (not to forget nowadays) sustainability. On these trips she has no problem keeping all our followers up to date through our social media channels.
Together with her fiancé, daughter and 2 chihuahua's, she enjoys life in her hometown Almere. In her spare time she is also quite busy with her study Bachelor of Laws, loves spending time on her boat with a good glass of wine and enjoys the company of family and friends.
International Sales & Accountmanager
At a young age, Zoran already joined his father into working in the SAU factory. After graduating from the HKU (school of Arts) several years later, he started to focus his attention more and more on SAU and the world of financial tombstones, awards and acrylic embedments. Nowadays Zoran has grown into the role of production leader, being responsible for every production job, machine and materials used. Through his creativity and knowledge he keeps expanding the list of materials and production possibilities to meet any requirement our customers throw at him.
In his spare time he loves to play a game of football and visiting the home games of Ajax. Together with his girlfriend he also enjoys spending hours in various museums around Europe, where he also finds his inspiration for designing and creating products that you can find on his studio website www.studiozoranstrijbosch.com.
Arnold is the colleague we can't do without in our production team. He is the go-to-guy in respect to every aspect of our production facility. 3D printing and milling, CMYK printing and engraving are just a few of the activities he controls throughout the day. There has never been someone that turns an impossible question from the artwork department into a workable solution so quickly.
Arnold likes to go outside for a walk (preferably with a coffee in hand), reading and occasionally rage at videogames.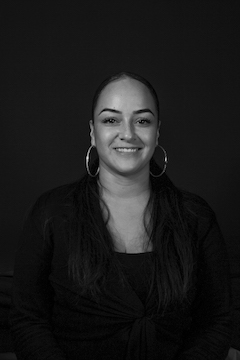 After being in the restaurant business for many years, Kaiya decided, during Covid years, to focus on a new career. Deep down her interest has been with sales for a long time already. So when SAU had a job offer she applied and the rest is history.
Kaiya enjoys going for a walk with her dog Danger but her passion lies with dancing, which she has done so for many years.
You have a request? This born and raised Amsterdam city girl is happy to be of service!
Born and raised in Gouda and worked in many of the cities crafts like the cheese and stroopwafel industry, Michiel was searching for a more creative place to spent his working hours. This he found at SAU, where he plays a main role in the production team. His enthusiasm is very contagious and he also embraced the photograpy and social media channels within SAU. 
In his spare time he likes to go out for a walk with his girlfriend and son. In the evening he likes to draw and create comics on his iPad or play a game of a typical Dutch sport called Korfbal.